Ingenuity@10: Igniting Equity in Arts Education
Celebrating 10 years of INgenuity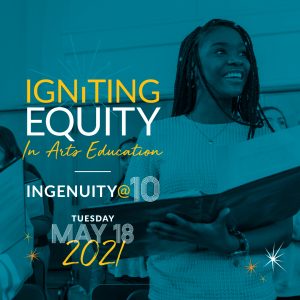 Our virtual 10th anniversary event, Ingenuity@10: Igniting Equity in Arts Education, celebrates 10 years of arts education progress in Chicago Public Schools!
Watch Ingenuity@10 to see highlights of CPS students' extraordinary artistic achievements, and hear world-renowned cellist Yo-Yo Ma, Chicago Mayor Lori E. Lightfoot, CPS Chief Executive Officer Dr. Janice Jackson, and other special guests discuss the power and importance of arts education in our public schools.
This virtual event pays tribute to the resilient 1,400 CPS arts teachers and 600 active arts organizations we serve, and ignite equity in arts education for the 340,000 CPS students and 642 schools we collectively impact each year.
How to watch

The video starts with a pre-show that recognizes event donors, and Ingenuity Board and staff. The full program begins at the 15:00 timestamp in the progress bar. We hope you enjoy!
Ignite Equity: SUPPORT ARTS ED TODAY!
Ingenuity's mission ensures that every student, in every grade, in every school has access to the arts as part of a well-rounded education throughout Chicago Public Schools (CPS). Following a challenging year, arts education is helping our city's children and youth reconnect with their peers, teachers and communities, and collectively heal.
Show your support for arts education in CPS by making a gift today!
| | |
| --- | --- |
| Steve and Nancy Crown | Steve SolomoN |
| Susie Kiphart | DAVID VITALE |
VISIONARIES*
MARGOT & THOMAS PRITZKER FOUNDATION
Karim Ahamed

Susan D. Bowey

Elizabeth Graettinger Cole

Darcy L. Evon and David Hiller

Francia E. Harrington and Vernon Broders

Mellody Hobson

Caroline and Charlie Huebner

Welz Kauffman and Jon Teeuwissen

K&L Gates LLP

Krueck Sexton Partners

Julie and Paul Sznewajs

Thompson Family Fund at The Chicago Community Foundation

Joyce Winnecke and George Houlihan
Anonymous

Suzette and Allan Bulley III

Rick and Dee Dee Chesley

Chicago Bulls

Marilynn and Ronald Grais

Anne and Vincent Kelly

Zach & Anne Lazar

John W. Madigan

Shirley and Walter Massey

Robert R. McCormick Foundation

Alice and John Sabl

Liz Stiffel

Linda and Robert Sullivan
Julie Andrianopoli

JC Aevaliotis

Heather Anichini

Michael J. Atler

Donald Bailey

Frank Baiocchi

Susanne Baker

Katherine Baldwin

Marilyn & Brit Bartter

Ray Boyer

Bridget Brennan

Joan and Bill Brodsky

JoAnne Chittick

Emily Cibelli

Kimberly Dowdell

The Foster Walsh Family

Jennifer Friedes

Jane Gately

Sue-Gray Goller

Marcy and David Gookin

Krystal Grover-Webb

Breana Hernandez & Dante Valenzuela Rivas

Vicky and Juan Hernandez

Julia Hinojosa

Mark Ishaug

Marian and Jeff Jacobson

Trent Johnson

Anedra Kerr

Scott Klapperich and Christopher Chantson

Cynthia Levin

Bill Loumpouridis

Leslie Luning

Jewel Malone

Desiree Moore

Trevor Nicholas

Christopher Olofson

Laura Olsavsky

Janet and Rodger Owen

Lynne Pace Green

Chloe Patton

Lindsay and Patrick Payne

Laurie and Mike Petersen

Bronwyn Poole

Barbara Radner

Jackie Rodgers

Margaret and Eric Scheyer

Elizabeth and Jeffrey Sharp

Sydney Sidwell

Shawn Smith

Carrie Spitler

Chris Steadley

Marcia Sutter

Jennifer Trenta

Christy Uchida

Edward and Nicole Upton

Sadia Uqaili

Joanne Vena and Rick Graham

Jennifer Warden

Jon Weber

Mary Woolever

Susan and Kevin Wyatt
*10th Anniversary Committee
This page was updated June 7, 2021 at 12 p.m. CST
Contact Us
Interested in learning more about what you read above or Ingenuity? Don't hesitate to reach out!
Contact Us