The artlook Schools site collects data on arts programming in CPS schools in the areas of staffing and instruction, budget and planning, and partnerships.
The data is entered by each school's Arts Liaison and informs the school's category along a continuum that is reflected on schools' annual progress report. The five categories along the Creative Schools Certification continuum range from "Incomplete Data" to "Excelling."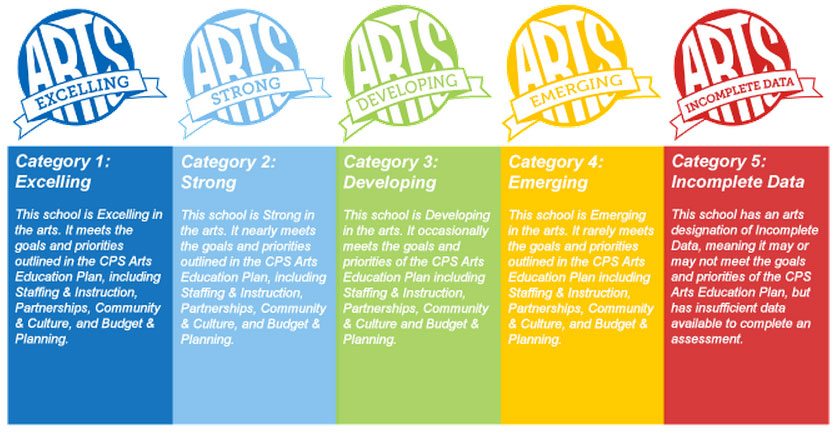 Schools are encouraged to use the information to help them:
make strategic decisions about arts programming
identify the resources and supports necessary to grow arts instruction
connect to professional development opportunities for principals and teachers
become eligible for the Creative Schools Fund
advance the District's goal of offering every CPS student a high quality arts education
The site also provides each school's data points on artlook Map. By selecting a specific school, visitors can view the school's arts assets as well as identify potential areas of need. Potential partners and community organizations can use the snapshot to identify opportunities and to work more strategically with schools and in communities. Click here for a users guide on how to enter data into artlook Schools.
Students with high arts involvement are:
4x more likely to be recognized for academic achievement;

4x more likely to participate in a math and science fair;

3x more likely to win an award for school attendance, and

3x more like to be elected to class office.
Explore Artlook® Schools
Sharing your school's art's programming data is easy and intuitive in our platform.
Contact Us
Interested in learning more about what you read above or Ingenuity? Don't hesitate to reach out!
Contact Us