Trauma-Informed Care in Arts Education
3-Part YouTube Series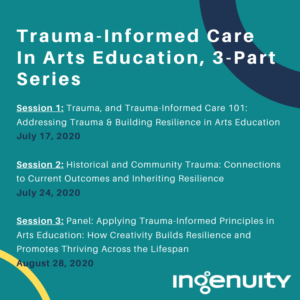 Join Ingenuity and Madison Hammett of the Illinois ACEs Response Collaborative for a 3-part Institute series on trauma-informed care in arts education. The series will discuss the landmark Adverse Childhood Experiences (ACEs) Study as a starting point. Participants will then learn what they can do to promote resilience, recovery, and thriving individuals and communities within their work, and the role art plays in addressing and preventing the effects of trauma.
Session 1:Trauma, and Trauma-Informed Care 101: Addressing Trauma & Building Resilience in Arts Education. July 17, 2020 | Watch the session here
Session 2: Historical and Community Trauma: Connections to Current Outcomes and Inheriting Resilience. July 24, 2020 | Learn more & register here
Session 3: Panel: Applying Trauma-Informed Principles in Arts Education: How Creativity Builds Resilience and Promotes Thriving Across the Lifespan. August 28, 2020 | Learn more & register here
Contact Us
Interested in learning more about what you read above or Ingenuity? Don't hesitate to reach out!
Contact Us