Have questions about partnering with Chicago Public Schools this year?
If so, the Back 2 School 2023 information video is here! Find more B2S resources including the Arts Partner Guide below!
b2s resources & tools
The following videos and resources are intended to provide an overview on some of the most essential procedures and policies that an organization will need to know when partnering with CPS. For additional resources and details please visit cps.edu.
Back 2 School Arts Partner Guide '23-24 →
Useful links, resources, and destinations for all your Back 2 School needs.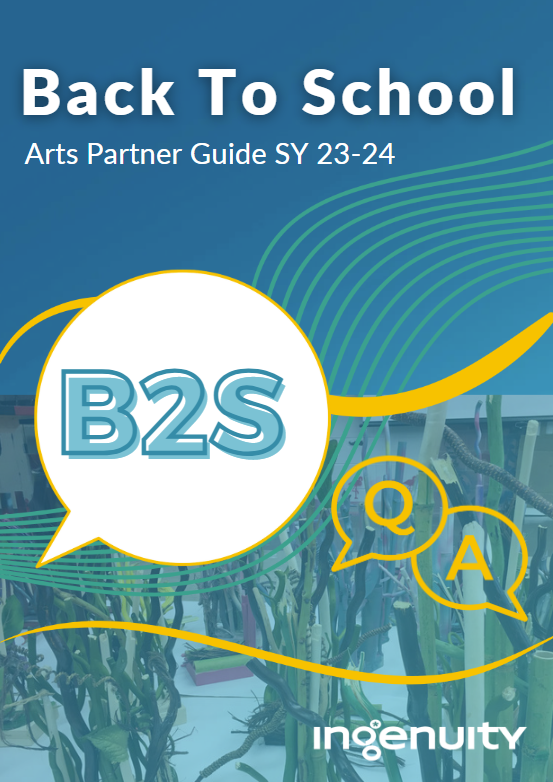 How to Become a CPS Vendor
Learn about the steps involved in becoming a vendor and doing business with CPS!
CPS Vendors vs. Volunteers
This video helps explain differences in abilities and qualifications for CPS vendors and CPS volunteers.
Supplier Attestation
Get an update on the process of annually providing information to CPS about your organization!
Teaching Artist Multi-Organizational Background Check Approvals
On behalf of CPS Safety & Security, and the CPS Department of Arts, Ingenuity is pleased to share that we have coordinated to update the CPS background check process, as it pertains to teaching artists, to reduce duplicative processes.
Through this update, the teaching artists listed below have been cleared to work with any CPS arts vendor without requiring additional background checks for each organization they work for. All approved teaching artists on the list cleared a background check with an approved CPS arts vendor in September 2020 or later.
If you are a CPS arts vendor interested in sponsoring TAs for the multi-organization background check approval process, please note that a new application cycle will open from September 13, 2023 – October 13, 2023. Access the application and learn more below.
For Questions Please Contact:
For any questions, please contact both the Ingenuity Director of Partnerships & Learning, Courtney Cintron at Ingenuity at cmc@ingenuity-inc.org and CPS Public Art & Partnership Support Specialist, Jessica Rodrigue at cpsarts@cps.edu
Contact Us
Interested in learning more about what you read above or Ingenuity? Don't hesitate to reach out!
Contact Us