Creative Schools Certification
Arts Liaisons: Take the 2019-20 Creative Schools Survey
Every year, CPS Arts Liaisons are asked to complete the Creative Schools Survey via the artlook® portal. By providing and/or verifying information about arts education at their school, they contribute to the creation of a clear picture of arts instruction across the district.
Survey data is used to identify each school's Creative Schools Certification (detailed below). This is listed on the school's public-facing progress report card along with other indicators of academic performance.
By completing the survey, Arts Liaisons secure $1,000 in Arts Essentials funding for their school, to be spent on arts supplies and materials. In SY2020-21, Arts Essentials funds will be awarded on a weekly basis to schools that complete the survey.
Survey completion also makes schools eligible for competitive Creative Schools Fund grants of up to $10,000.
The survey is less than 30 questions, and you can complete it today by taking these easy steps:

Visit

https://chicago.artlookmap.com/school-portal

and follow the prompts to log in. Click "Forgot Password?" if you don't have your password.

Use the "What's Happening Now" section to provide updates on your school's

current

needs.

Use the "2019-20 Survey" section to complete your annual survey.

Complete each tab and submit your survey on or before October 9, 2020.

Please don't hesitate to reach out to artlook@ingenuity-inc.org if you have any questions or concerns.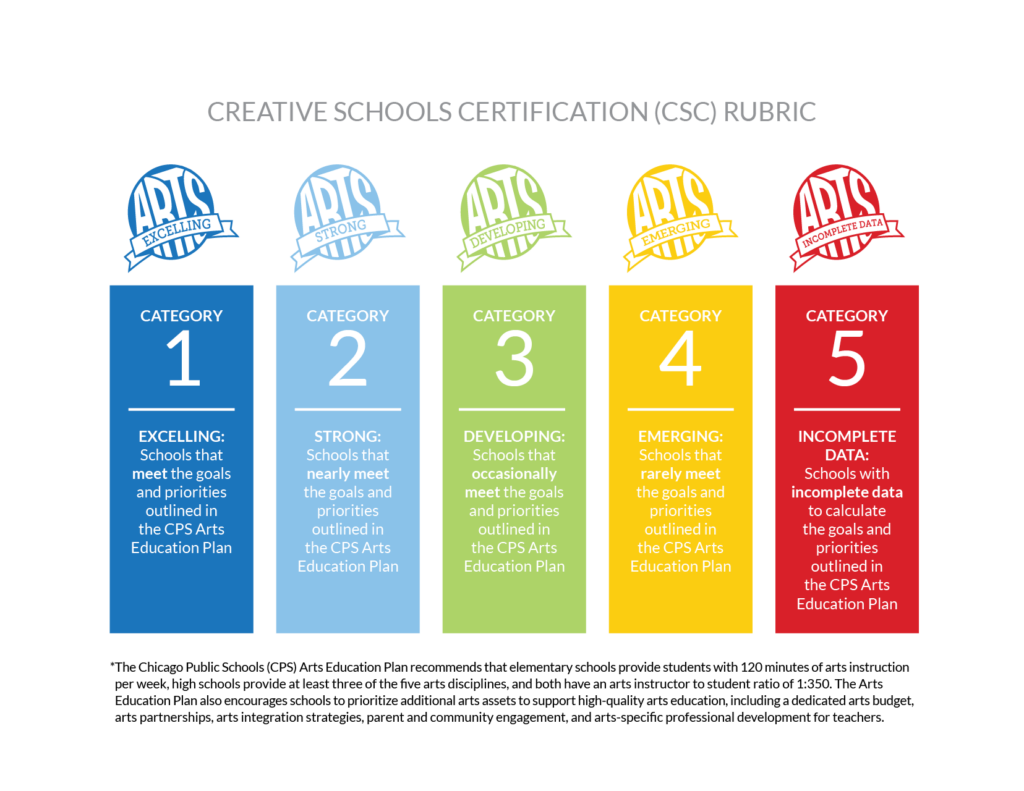 Creative Schools Certifications provide principals, teachers and parents with a comprehensive overview of the arts offerings in their school and a roadmap for expanding quality and access.
The Creative Schools Certification, or CSC, identifies the level of arts instruction in every CPS school using a five-point scoring rubric. The CSC score appears on each school's progress report, along with other indicators of academic performance. Certifications help school personnel develop plans and partnerships to address gaps in arts equity, sustain the arts in their school and develop innovative arts education models that can be replicated in the District.
What factors into the CSC score?

The CSC takes into account key indicators of schools' progress and needs:

CPS arts teacher staffing (the recommended arts instructor-to-student staffing ratio is 1:350)
Average weekly minutes of arts instruction offered at CPS elementary schools (the recommended minimum is 120 minutes)
Percentage of CPS students with access to arts instruction (this metric is tied closely to staffing and minutes of instruction)
Program discipline and depth (high schools only): this refers to the number of arts disciplines offered and depth of instruction, such as opportunities for sequential learning

In addition, the Certification rating considers the types of support for the arts that are present in each school, including whether schools provide: a dedicated arts budget, arts-specific professional development, use of arts integration strategies, community arts partnerships, and parent and community engagement.

How is this information collected?

Ingenuity collects data through the annual Creative Schools Survey, which we distribute to every school in the District. After thorough analysis, Ingenuity designates Creative Schools Certification ratings to every CPS school that participates in the survey.
Mapping Arts Equity
Ingenuity makes Creative School Certifications publicly available through artlook and our annual State of the Arts report, providing the sector with insights and resources to drive arts education access.
Contact Us
Interested in learning more about what you read above or Ingenuity? Don't hesitate to reach out!
Contact Us