Ingenuity welcomes Kelly V. Carter to Board of Directors
June 15, 2020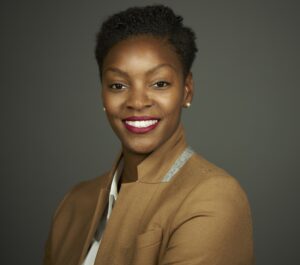 Ingenuity is pleased to announce the addition of Kelly V. Carter to its Board of Directors. A former ballet student and current Associate Managing Director of U.S. State and Local Tax for CIBC US, Kelly brings exciting depth to the Ingenuity Board, which is responsible for providing counsel and guidance in the direction and operation of Ingenuity as well as raising awareness of Ingenuity's mission and service to Chicago Public Schools (CPS).
A native Detroiter, Kelly studied ballet under Toni M. Lewis (dec.), for more than a decade and now serves the Chicagoland community as an arts and education advocate. She holds a Bachelor's from Central Michigan University, a Juris Doctor from Wayne State University Law School, and is a member of both the Michigan and Illinois State Bar.  
"We are so excited to welcome Kelly to our board. She has made significant contributions to the arts sector, and she brings invaluable perspective to our Board as an arts advocate and former student of the arts," said Paul Sznewajs, Executive Director of Ingenuity. "Her expertise and passion for arts equity will help advance our efforts to ensure that every student, in every grade, in every CPS school has access to a high-quality arts education."
Kelly joins current board members Karim Ahamed (Cerity Partners), Euler K. Bropleh (VestedWorld), Kimberly Dowdell (HOK), Darcy L. Evon (The Village Chicago), David Gordon (Sidley Austin LLP), Deepa Gupta (Blue Lotus Advisors), Francia E. Harrington (Civic Leader), Thomas Hodges (Retired, NorthShore University HealthSystem), Anne Kelly, PhD (Project Consultant), Andrew Means (Salesforce.org), Desiree F. Moore (K&L Gates LLP), Savi Pai (Capital Group), Chris Steadley (Gartner), Elaine Tinberg (Civic Leader), and David Vitale (Urban Partnership Bank).
Ingenuity's mission is to leverage the vibrant communities, rich knowledge, and significant resources of Chicago to ensure the arts are a critical component of every CPS student's education.
About Ingenuity
Ingenuity is a backbone arts education 501(c)(3) with core programs in data, advocacy, grant-making, and professional learning. The organization's collective-impact approach to arts advocacy drives partnerships, insights, and investments in the arts for 350,000 students in Chicago Public Schools. A nationally-recognized arts advocacy leader, Ingenuity has advanced the most progress in CPS arts education in 40 years. Learn more at ingenuity-inc.org
Contact Us
Interested in learning more about what you read above or Ingenuity? Don't hesitate to reach out!
Contact Us