Board Spotlight: Award-Winning Architect, Kimberly Dowdell!
February 3, 2021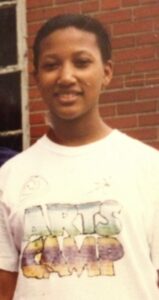 Ingenuity Board Member Kimberly Dowdell's award-winning architecture career began with a middle school art project.
Dowdell's teacher gave every student a shoe box and charged each of them with making their own apartment. Empowered with carpet samples and blocks, 11-year-old Dowdell began to create a space in which she could imagine herself living.
"That was really my first time understanding that we have the power to move things around and shape the way that we live our lives," Dowdell said. "That was also the first time that I had really heard the term architect, helping me to realize that architects basically shape space."
Dowdell called this experience an epiphany moment. The project got her thinking about how she could shape the buildings in her hometown of Detroit. She decided then to become an architect to help revitalize downtown Detroit and address the inequities that were built into her city.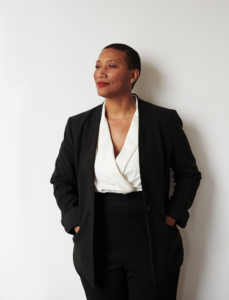 Flashforward 25 years, and Dowdell is now driving the charge for equity in architecture as a principal and leader at global design firm, HOK, and through her recent term as the first millennial president of the National Organization of Minority Architects. In 2020, she was selected as a Crain's Chicago "40 Under 40" honoree for her efforts to solve social issues through architecture, and she received the AIA Young Architects Award for her leadership and contributions in creating a more diverse, equitable, and inclusive industry for women and architects of color.
As a Board member at Ingenuity, Dowdell is working to ensure that the next generation of creators have the same formative arts experiences that she received.
"Everyone has potential, and the arts help to tap into untapped potential," she said. "Exploring different mediums of art allows students to really identify what resonates with them, understand their thought processes, and discover how they optimally create. Those are the kinds of questions that you really start to answer for yourself through the exploration of the arts."
KimBERLY's Advice for Emerging POC Leaders
During our interview, Kimberly laid out four pieces of advice for young people of color who are working in predominantly white organizations. These have been edited for clarity.
You belong. It's important for everyone in spaces that don't necessarily reflect their identities to feel some level of confidence and security in the fact that they belong there. You're not there because of a hand out or because someone's doing you a favor. People need to firmly understand and believe that they belong. I feel like that's the baseline.
Be yourself. Bring your full self to the work, and if the organization or company doesn't appreciate that, then that's a problem. That's not your problem, it's their problem. There will always be spaces where your full self is not welcome, and there will always be spaces — better spaces — where you're encouraged to be your full self. Don't be afraid to be who you are. That's the most sustainable way to exist in the world. If you build too much of a facade that is inauthentic, people will start to see through it or you'll probably start to buckle under the pressure of that extra weight. That's not healthy or productive.
Don't be afraid to speak up. Be brave. I used to live in New York, and they had these signs on the subway that said, "If you see something, say something."  I would borrow from that: If you see something that doesn't make sense, or something you want to celebrate, say something. If you see something that is inappropriate, also say something. It's really situation-specific depending on the nature of the incident, but I think it's important to make sure people know when they are out of line or say something inappropriate because maybe they just don't understand. Or if they do understand it's wrong, then that's a whole other issue and you might have to get HR involved. But the point is, if you see something, say something.
Remember that we're all human. It's important to really see everyone's humanity and see things from different peoples' perspectives — or try to at least. If you don't understand someone or someone's actions, take a step back and try to think about the situation from their perspective. Don't always jump to the worst conclusions. Certainly there are people out there who don't always do or say the right things, but giving people the benefit of the doubt to some extent and seeing people as the humans that they are — not necessarily the exterior packaging that we all show up as — is a good way to help navigate spaces that are not super reflective of your own cultural identity.
Learn more about Ingenuity's other Board Members here: ingenuity-inc.org/about/staff-board/
Contact Us
Interested in learning more about what you read above or Ingenuity? Don't hesitate to reach out!
Contact Us