2020-21 State of the Arts Report
2020-21 State of the Arts Report
The State of the Arts in Chicago Public Schools (SOTA) report has, for the past nine years, employed data to chronicle the advancement of CPS arts education while also identifying areas for improvement and opportunities for growth.
This report provides updates on how CPS schools and the arts partner community fared in bringing the arts to CPS students in the 2020–21 school year, the first full year of data collected during the COVID-19 pandemic. Data reveals both the resilience of and struggles within school communities: schools had some success in maintaining access to the arts at levels similar to what was seen in 2019–20, with small drops across most measures, and struggled to sustain their performance in measures of the quality of the arts programs they offered.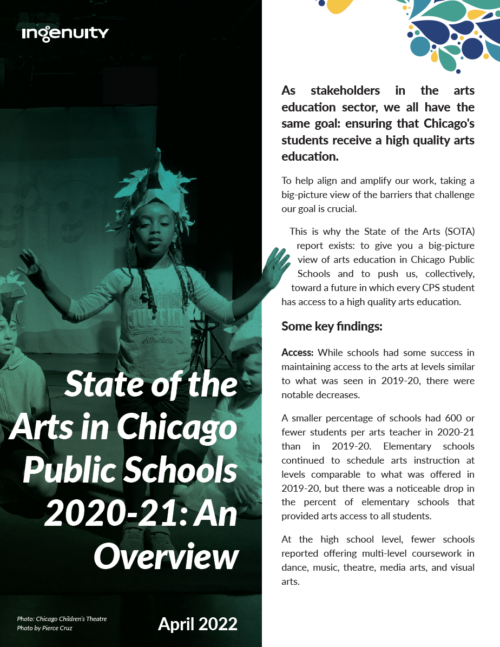 ---
Key findings
The share of schools rated as Excelling or Strong in Staffing in the Arts decreased from 2019–20 to 2020–21. High schools (78%) are considerably more likely than elementary schools (62%) to be rated as Excelling in the Staffing measure.
The percentage of reporting elementary schools that rated as Excelling or Strong in Minutes of Instruction decreased slightly from 2019–20 to 2020–21.
The share of reporting elementary schools that rated as Excelling in the Percent Access measure fell from 2019–20 to 2020–21.
While Disciplines & Depth ratings remained steady in 2020–21, the number of high schools offering multi-level coursework dropped in all disciplines.
The data for the State of the Arts Report come from the Creative Schools Survey, CPS data, and arts partners, as well as charter and options schools. The report reflects staffing, access, instructional time, funding, and arts partnerships, providing the most comprehensive overview of the CPS arts education landscape in District history.
---