2015-16 State of the Arts Progress Report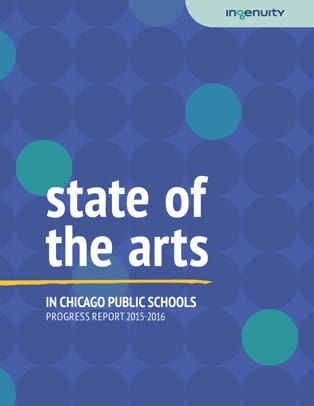 Two-thirds of CPS students now attend a school Strong or Excelling in the Arts
Ingenuity has released its 4th annual State of the Arts in Chicago Public Schools progress report. Data reflect an increase in the number of elementary schools meeting weekly instructional minutes and the number of schools Strong or Excelling in the arts across nearly every network last school year.
These latest findings make it clear that schools have made significant progress in expanding and incorporating arts in the school day over the past four years since CPS put the Arts Education Plan into action.
---
Key Findings
60% of CPS's 660 schools were certified as Strong or Excelling in the arts, more than in any of the three previous years the Survey was conducted.
Nearly 250,000 CPS students–more than 2/3 of CPS students–attended a school Strong or Excelling in the arts.
Elementary schools were more likely than high schools to attain a category of Strong or Excelling.
Even as CPS continued to face deep fiscal challenges, many schools prioritized staffing in the arts.
Ingenuity identified 1,402 arts instructors in the 2015-16 school year, an increase from the 1,337 that were identified the previous year.
The percentage of reporting schools with at least one full-time equivalent (FTE) reached 92% in 2015-16.
73% of schools met or exceeded the goal of one full-time arts instructor for every 350 students, an increase from 68% in 2014-15.
The percentage of high schools with one full-time arts instructor for every 350 students has held steady at around 90% each of the past four years, while the percentage of elementary schools meeting this threshold has increased from 43% in 2012-13 to 68% in 2015-16.
On average, 97% of elementary students had access to arts instruction, and 59% of elementary schools offered the recommended 120 minutes of weekly arts instruction to their students.
50% of high schools offered 3 or more disciplines, and more than half of these offered three or more multi-level disciplines.
Ingenuity identified 579 active community arts partners serving schools in the district—the largest pool of active partners in the four years of surveys.
96% of CPS schools reported a partnership with at least one community arts partner.
Twenty Chicago-based foundations and corporations reported supporting arts education by donating $8,484,365. The addition of $2,402,404 from Ingenuity's Creative Schools Fund brought the 2015-16 community investment in arts education to approximately $10.9 million.
---
Media Coverage
ABC-7 News | More CPS Students Have Access to Arts Programming, Report Says
Education Week | Chicago Arts Survey Finds Revitalized Programs, Lingering Gaps
WTTW's Chicago Tonight | CPS Arts Instruction Growing, But Parts of City Still Lagging Behind
WFMT | CPS Reports Increased Access to Arts Education, Despite Statewide Budget Crisis
WBEZ (NPR) | New Report on State of Arts Education in Chicago Public Schools
CPS.edu | Arts Education on the Rise in CPS
LinkedIn | Paul Sznewajs' post on Collective Impact: Achieving What's Possible
DNA Info | Barnard Elementary getting ballet, modern dance exposure via 'The Firebird'
Daily Herald (press release)
FOX TV (press release)
Chicago Business Journal (press release)
Hyde Park Herald
---
What People Are Saying
"We know that exposure to the arts is just as critical as math and sciences to a 21st century education, which is why we launched the district's first comprehensive arts plan to improve access for students in schools across the city. Since that time, the arts has become a core component of the school day, helping students excel in the studies overall, while providing them the creative outlet that allows them to realize their full potential."

—Rahm Emanuel, Mayor, City of Chicago
"The strength of CPS arts education has helped our students channel their creativity and hone their skills to become the next great creators and innovators. Ingenuity's findings confirm that we are moving in the right direction, and we will continue to seek opportunities to elevate arts education in schools throughout Chicago."

– Dr. Janice Jackson, Chief Education Officer, Chicago Public Schools
"In our fourth consecutive year of tracking student access to the arts in Chicago Public Schools, we see encouraging progress city-wide. Six of ten CPS schools is now considered Strong or Excelling in the arts—a significant increase from two years ago. There is still work to be done, but this meaningful progress reaffirms an underlying commitment by many CPS principals to the arts."

—Paul Sznewajs, Executive Director, Ingenuity
---