State of the Arts in CPS: Baseline Report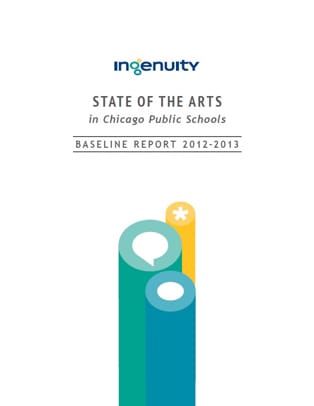 ---
Key Findings
94 percent of the 577 District-run schools had at least one full- or part-time credentialed arts instructor, though student access to teachers varied;
Less than 25 percent of CPS elementary schools provided the CPS Arts Education Plan's recommended 120 minutes of weekly instruction;
56 percent, or 323 schools, meet the recommended arts instructor to student ratio of 1-to-350 or less;
Total arts education funding is over $120 million annually, but there is need for additional investments from the District if it is to meet the goals of the Plan;
The majority of in-school-time partner programs are one-time field trips or performances that may signal little consistent or ongoing student access to longer-term, higher-cost programs such as arts residencies.
CPS schools compare favorably to other urban schools in a number of ways including a lower student-to-instructor ratio and an ambitious minimum weekly instruction requirement of 120 minutes of instruction per elementary grade student. The highest category schools on the new CPS Creative Schools Certification—"Excelling" schools—are among top schools nationally for the provision of dedicated arts staffing and instructional minutes for students.
---
What People Are Saying
"Exposure to the arts is fundamentally important to a child's ability to learn and grow, and is a critical component for a well-rounded, 21st century education. By making the arts complementary to the core subjects and increasing weekly minutes of instruction in every school, we will boost student achievement and prepare our students for success not just in the classroom, but in life."

—Barbara Byrd-Bennett, CEO, Chicago Public Schools
"Arts education was cited as a top priority by Chicago's residents during the community engagement process that led to the Chicago Cultural Plan. Ingenuity's report will allow people from all of Chicago's neighborhoods to see where the arts are flourishing, as well as where their support is needed to encourage additional investments in our next generation of innovative thinkers—those who may very likely create our great city's next cultural plan."

– Michelle Boone, Commissioner, Chicago Department of Cultural Affairs and Special Events
"If we're serious about providing all students a rich array of arts opportunities and implementing CPS' Arts Education Plan, this report lays out a clear path for getting there.  Better still, it helps underscore where we're making progress, and what additional support and focus it's going to take to go further still."

– Robin Steans, Ingenuity Board Member and Executive Director, Advance Illinois
"This report demonstrates not only the importance of arts education to human and community development, but the power we have as a community to work together for the benefit of our children. The fact that CPS has made arts a core subject should be celebrated—along with the fact that so many teachers, administrators, and partners are working to enhance the arts in every neighborhood in our city. In the coming years, this report will be an important touchstone as we continue to build new partnerships and develop new ways to accomplish our common goal of reaching every student through arts education."

– Tom Bracy, Ingenuity Advisory Panel Member and Executive Director, Merit School of Music
"The investments made during this past year by Mayor Emanuel and CPS CEO Barbara Byrd-Bennett underscore the conscious effort by the school district  and the Mayor's Office to reach our shared goal of ensuring that every student in every CPS school will have access to a high quality arts education. Their vocal commitment to arts education as a fundamentally important part of a child's ability to learn and grow is commendable, and adding arts instruction in every school will boost student achievement and prepare students for success. Based on early data, we anticipate the next report will reflect growth within CPS during the past school year."

– Paul Sznewajs, Executive Director, Ingenuity
---