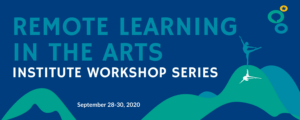 From group choreography and ensemble work to space and material constraints, distance learning in the arts poses a unique set of challenges. What are the creative and innovative ways that arts educators have overcome the challenges of remote learning?
Join Ingenuity and members of the Partnerships and Professional Learning Impact Panel for a series of discipline-specific virtual workshops on remote learning adaptation in the arts. Together we will compile strategies, approaches, and tools to support the sector as we face the opportunities and challenges of remote learning in the arts.
See below for the full schedule.
Workshop Schedule
September 28, 10am – 11am (visual art/media art) – register 
September 29, 11am-12pm (music) – register
September 29, 2pm-3pm (dance) – register
September 30, 11am-12pm (theater/lit) – register
2020-21 Virtual Resources
Contact Us
Interested in learning more about what you read above or Ingenuity? Don't hesitate to reach out!
Contact Us