Creative Schools Fund 2020-21
The 2020-21 Creative Schools Fund Application IS HERE!
The 2020-21 Creative Schools Fund application is here, and Ingenuity has worked closely with CPS to adapt this year's grant structure to respond to the evolving needs of students, teachers and schools during this unprecedented school year.
These adaptations have been made in order to support schools through the 2020-2021 school year by preparing for changes in the health and safety landscape, responding to priorities set by the district, and adapting to emerging needs and assets as expressed by a community of arts education constituents. 
Grant Guidelines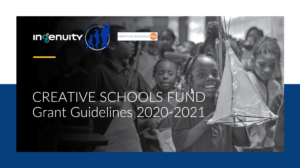 Read our updated grant guidelines to review these adaptions, understand the latest CSF goals and priorities, check grant eligibility requirements, and note key dates.
Application
We are accepting Creative Schools Fund applications through Submittable, an online application portal. Please review the Grant Guidelines above before beginning your application for instructions on how to create a Submittable profile and important eligibility information.
If you would like to review the application questions before beginning your official application, you can review the application questions here. If you have any questions, please don't hesitate to reach out to our Creative Schools Fund team at csf@ingenuity-inc.org.
Info Sessions

We're hosting virtual information sessions on everything you need to know about this year's Creative Schools Fund. Arts Liaisons and arts partners are encouraged to attend! We'll host info sessions throughout the application period (September – February), so be sure to check back here for new session dates.

Upcoming Sessions
Thursday, January 7 | 3:30 – 5:00 PM – Register

In the meantime, watch our recorded info session below!
Past Grantees
Each year hundreds of schools design arts learning programs to fill gaps in arts instruction for their students, expand curriculum and teacher skills, and better sustain access to the arts for every student in every grade. Simply by participating in the application process, schools report improved teacher capacity for strategic planning in the arts and increased partnerships. We are honored to partner with the extraordinary arts teachers of CPS who design and implement Creative Schools Fund grants each year!
Contact Us
Interested in learning more about what you read above or Ingenuity? Don't hesitate to reach out!
Contact Us