2020-21 Student Impact Stories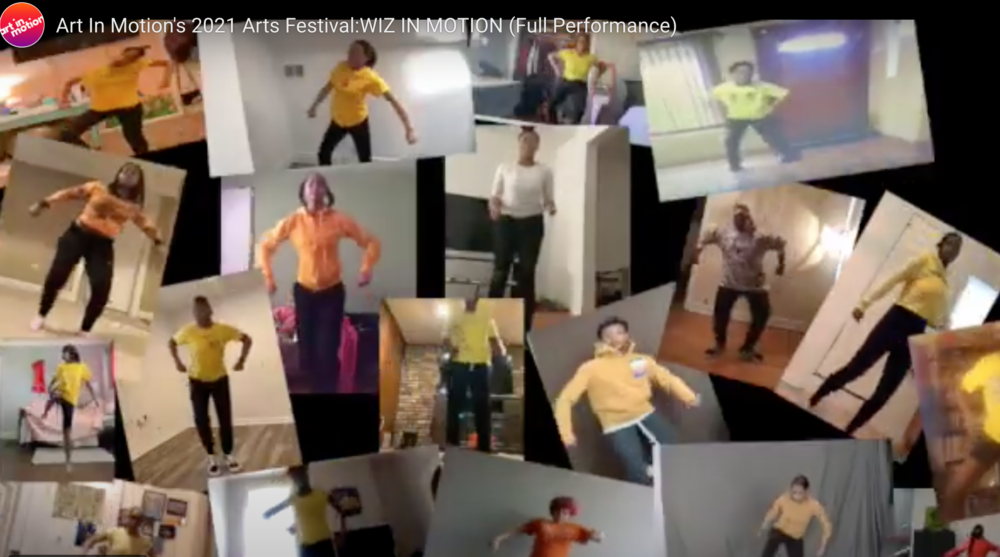 ART IN MOTION CHARTER SCHOOL
Art in Motion students built community and explored themes of social justice through an in-depth study of Motown's "The Wiz". Their culminating event was "Wiz in Motion: There's No Place Like AIM" Arts Festival, taking place in June 2021. This was also the first time students met with each other during the school year. Students were able to dive into dance, singing and acting while exploring the influence of the Wiz on Black communities. With the help of the Creative Schools Fund grant, students were guided with clear objectives of how to create an end of year showcase or performance that has multiple entry points and options for final products for students, due to the remote element during a pandemic.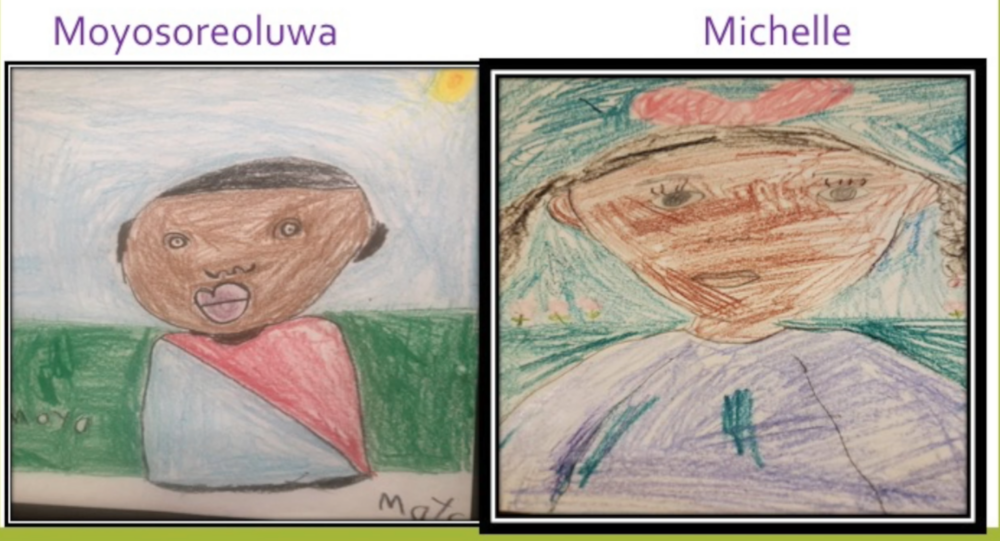 EARHART OPTIONS FOR KNOWLEDGE ELEMENTARY
Worked with Changing Worlds. Students culminating performance was a virtual,  theatrical reading of poems. The poems were created collaboratively, and each accompanied by original artwork from the students – many were their own interpretations of well-known artworks. The collaborative arts partnership with Changing Worlds provided quality arts education, built upon STEAM concepts, and modeled collaborative teaching methods. This partnership was critical in modeling how art shows up in STEAM education. Students used critical inquiry and analysis, and investigated multiple strategies to develop, improve or revise original ideas. 2020-21 was Amelia Earhart Elementary's first year operating as a STEAM school. With the help of a Creative Schools Fund grant, all K-8th grade students served were able to experience an interdisciplinary arts class.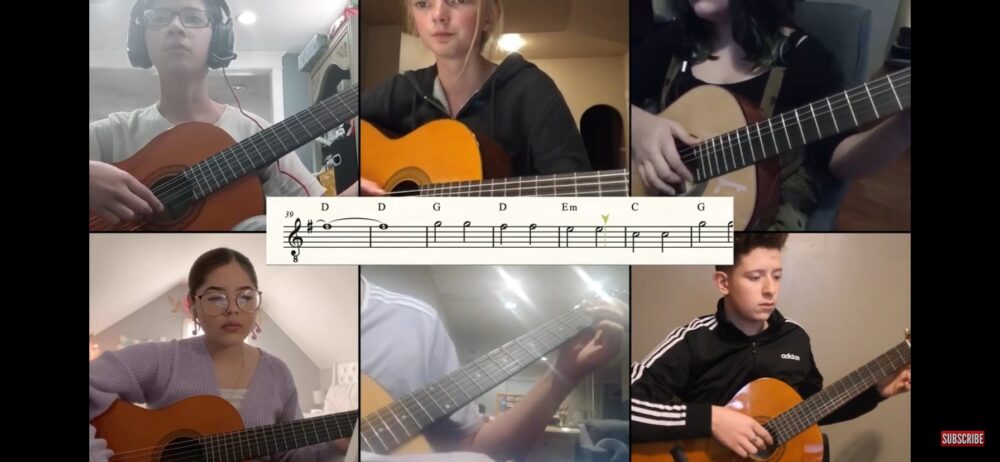 ACERO CHARTER SCHOOLS - VICTORIA SOTO HS
School partnered with Lead Guitar and students received intimate, small group instruction. The school also had access to Lead Guitar's online resources that helped with both enhancing students' individual skills as well as those of the ensemble. Lead Guitar was able to provide that strong foundation to Soto's guitar program –  students grew their skills in music theory, ear training and technique and had access to appropriate repertoire. Various students from Soto were able to participate in Lead Guitar's Virtual Showcase, which took place on a national platform. Collaboration was helpful in helping school instructors evaluate teaching styles, and establishing consistency with assessments. 
2019-20 Student Impact Stories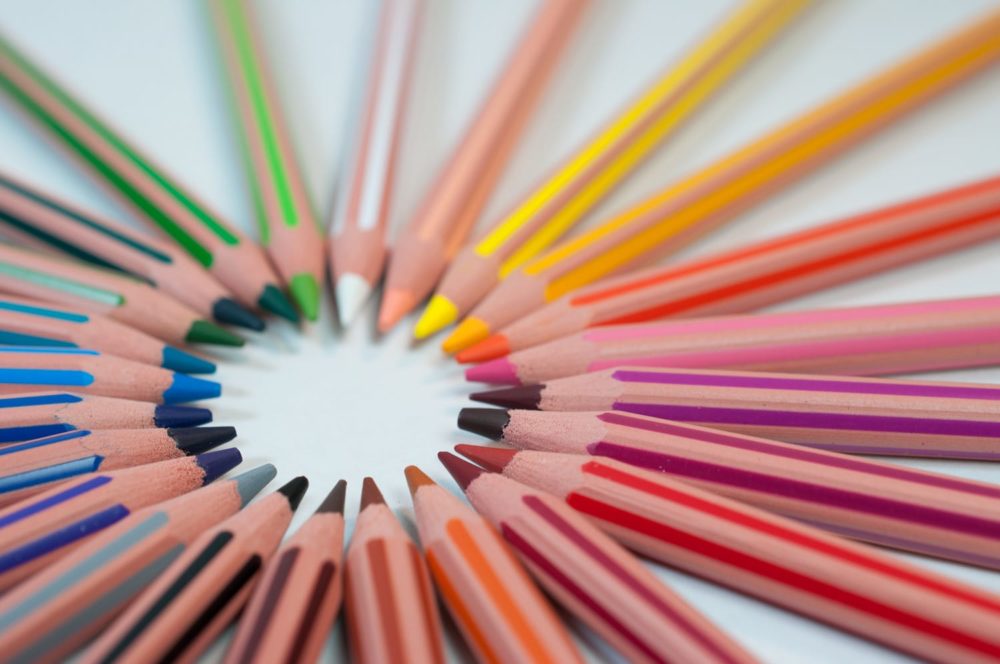 Benjamin Mays Academy and Urban Gateways
In the face of a world-shifting year, schools and arts partners remained committed to providing arts learning to students learning at home.
---
When they wrote their proposal for the 2019-20 Creative Schools Fund grant, Benjamin Mays Academy and Urban Gateways included 78 hours of mixed media and performance art experimentation with a resident artist. After the pandemic hit, they adapted their proposal for remote learning, allowing students students to continue interacting with SEL Arts activities, vocal activities, and participated in classroom plays.  Grades 6-8 students did self-exploration activities by reading plays, then creating a new play with a different community lens. Students were also able to express their feelings about the COVID crisis and what it means to them personally. During the remote learning time, Urban Gateways, was continually searching for new methods to use in classroom Arts Education and help meet the school's needs. A lesson above all was that, no matter what the situation is, the arts can flourish.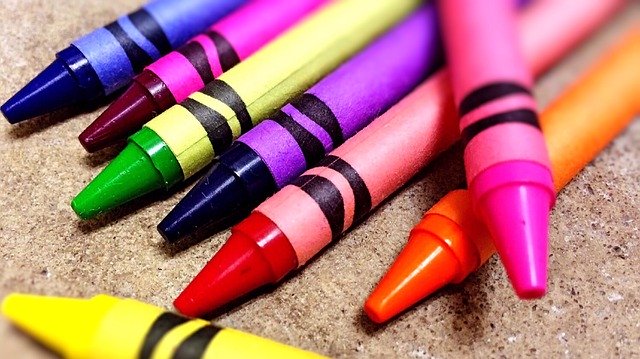 George Washington Elementary and Lifeline Theater
In the face of a world-shifting year, schools and arts partners remained committed to providing arts learning to students learning at home.
---
When many of their partnerships were just starting to begin, 2019-20 Creative Schools Fund (CSF) recipients faced serious disruptions to their grant programs amid the shift to remote learning in spring 2020. We asked Julia Dusek-Devens, Band Director, General Music Teacher, and Arts Liaison at George Washington Elementary, to share how she and her arts partner were able to successfully adapt their 2019-20 CSF program to deliver an equally robust and engaging theater program to K-3 students on the Ingenuity blog. You can read this impact story here to gain insights and tips for creating an impactful and flexible arts education program.
2018-19 Student Impact Stories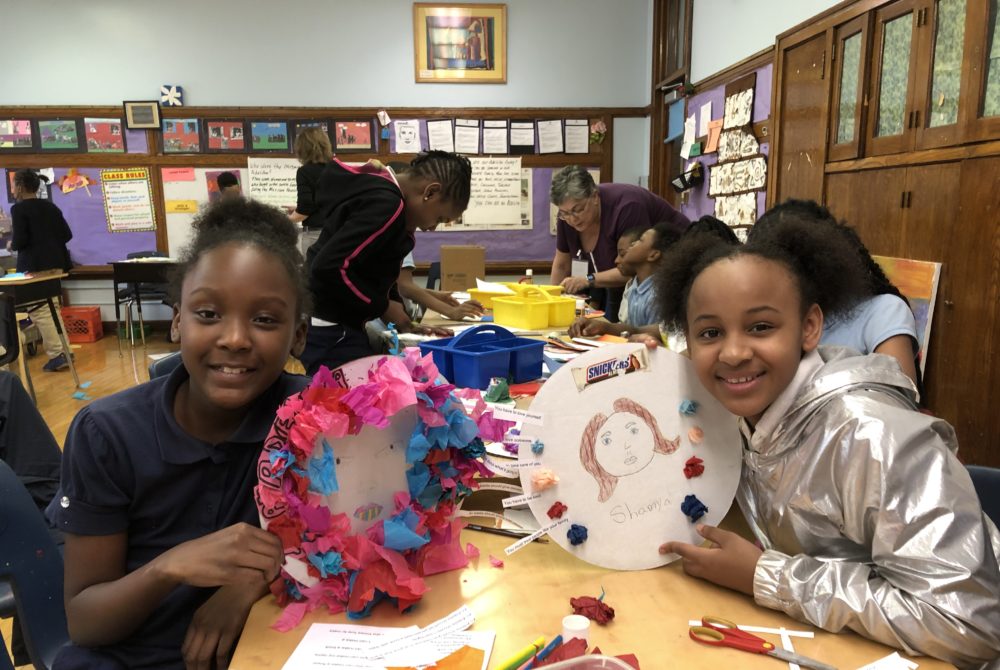 Manierre Elementary and Changing Worlds
Manierre Elementary School serves nearly 334 students in the Old Town neighborhood. Of these students, 97% are African American, 99% are low-income, and 18% have special needs.
Manierre received a Creative Schools Fund grant to partner with Changing Worlds to integrate Latinx history into classroom cultural studies and instill literacy as an art form among Manierre's fourth- and fifth-grade students. Changing Worlds teaching artists' interdisciplinary lessons incorporated Latinx and African rhythms, the works of authors Sandra Cisneros and Octavia Butler, and spoken word poetry to introduce students to Adelitas (female warriors who were instrumental in securing Mexico's victory during the Mexican Revolution). Students created visual representations of the Adelitas in their lives, using various materials to create portrait collages.
Through this intersectional approach to Latinx history, Manierre students not only gained pride in themselves, their families, and their communities, but also developed the linguistic and artistic skills to express this pride via spoken word poetry, rhythmic chants, synchronized drumming, expository writing, and visual art.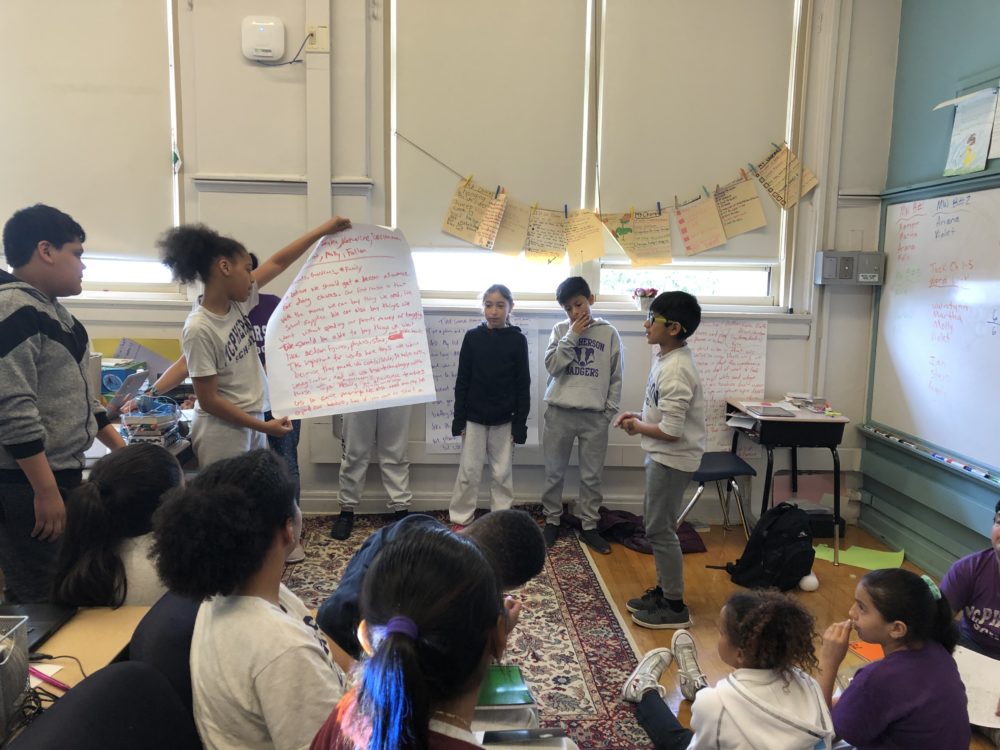 McPherson Elementary and Barrel of Monkeys
James B. McPherson Elementary School serves nearly 700 students in the Ravenswood neighborhood. Of these students, 75% are Latino, 30% are English Language Learners and 25% are diverse learners.
McPherson partnered with Barrel of Monkeys to engage fourth- and fifth-grade students in creative writing and theatre exercises to promote language and literacy skills, as well as increase opportunities for peer learning by encouraging students to express themselves and present their ideas in new ways. At the beginning of the residency, every student received their own journal, which they filled with short stories written in a variety of literary genres over the course of the program. After crafting their stories—ranging from poetry to prose, from fiction to non-fiction—students were encouraged to share their work with peers and act out their stories in front of the class. Over the course of just seven weeks, students became comfortable writing and sharing their stories with their peers.
Each student walked away from the Barrel of Monkeys residency with a journal full of their own writing and increased confidence in their abilities and ideas. Many continued to bring their journals to school even after the formal program ended, creating new stories independently and sharing them with friends. Attempting to summarize her experience with the residency, one McPherson student stated, "I used to hate writing, but this made it fun."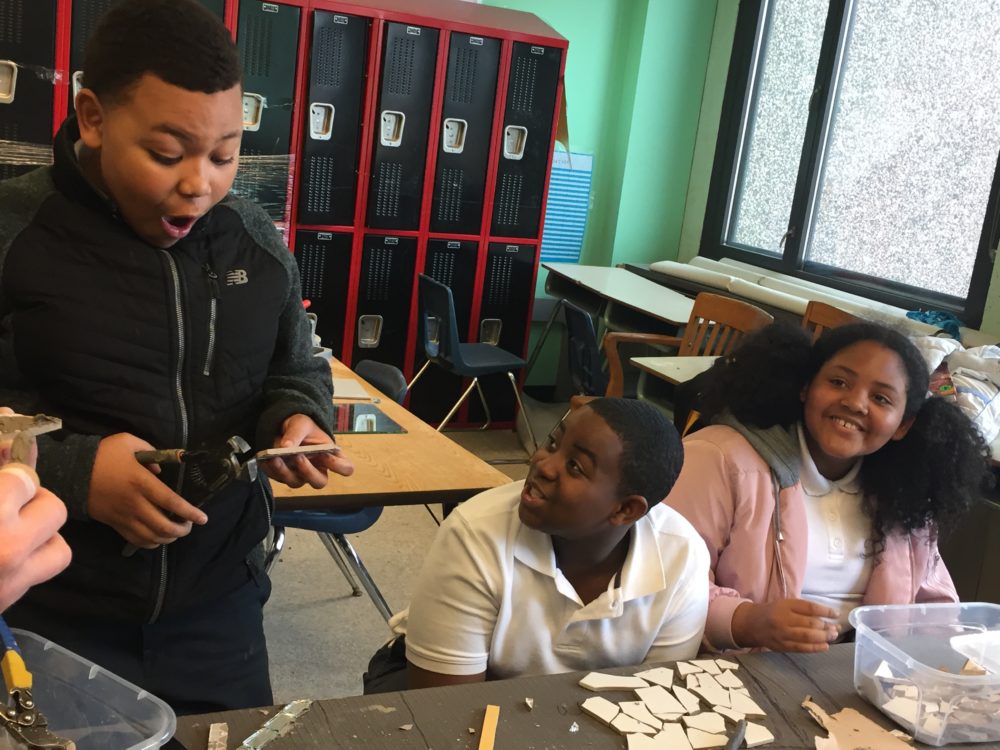 Wendell E Green Elementary and Green Star Movement
Wendell E Green Elementary School is a neighborhood school in Washington Heights. Wendell Green serves over 300 students, of whom 98% are black, 77% are low-income, and 21% are diverse learners. Wendell Green partnered with Green Star Movement to give students the opportunity to collaborate with community members to create a neighborhood art piece.
The school chose to create a mural that would display their namesake, Wendell E Green, and other prominent African American judges in Chicago and Illinois. In selecting students to participate in the project, teachers prioritized children with social-emotional and behavioral issues. Students across grade levels and learning styles joined the community-driven project, learning the fundamentals of mosaic, sculpture, painting, and photography essential to completing the project. The class environment proved therapeutic for students who typically struggled in traditional classroom settings, with many discovering new talents they weren't aware they possessed. In addition to these new skills, students also developed new relationships with their classmates and community members throughout the creative process.
By working with community members to design a permanent mural in Washington Heights, students deepened their relationship to their neighborhood and their school, creating a public display which they return to with their families for generations. Ultimately, this partnership helped students develop a greater sense of pride in themselves, in their community, and in the contributions of black Chicagoans throughout history.
2017-18 Student Impact Stories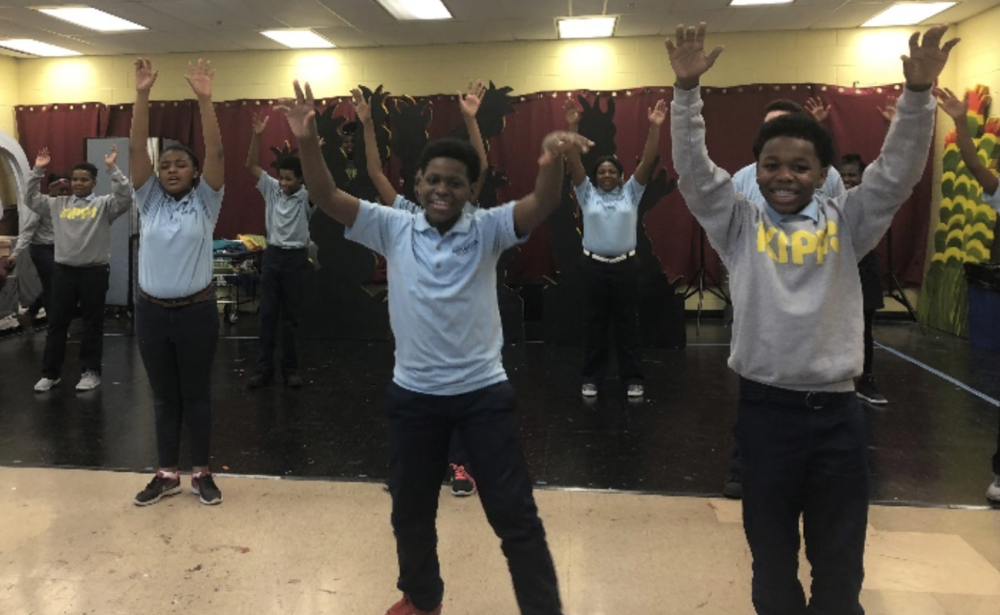 KIPP Bloom College Prep and Albany Park Theater Project
Located in Englewood, KIPP Bloom College Prep is a charter middle school that serves 340 students, of whom 99% are students of color and 94% are economically disadvantaged. Two years ago, a lighting rental malfunctioned during the school's annual musical performance, forcing sixty students to perform their six months of hard work in the dark. Professional videos and photos of their performance are indistinguishable, and students finished the production feeling as though they weren't able to fully tell the story they had devised. Last year, Bloom received a Creative Schools Fund grant from Ingenuity to install a custom lighting system and begin a partnership with Albany Park Theater Project (APTP). APTP trained teachers on administering the new lighting system, trained students on lighting design and operation, and provided supplemental costume, set, and props work – skills which will allow Bloom's theater program to flourish for years to come. Subsequently, students formed Bloom's first-ever student-led tech crew and produced a performance of Annie that was enjoyed – in fully-lit view – by peers, family and friends.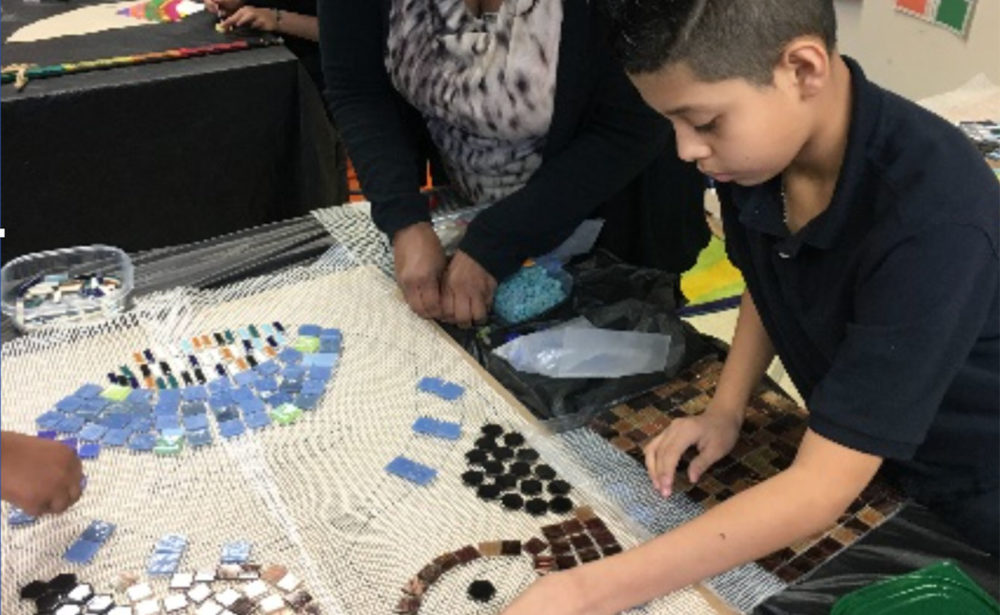 Marquette Elementary School and Changing Worlds
Marquette Elementary is located in the Chicago Lawn community on the South West Side. Marquette serves more than 1,000 students, of whom 99% are students of color and 86% are low-income students. Marquette received a Creative Schools Fund grant to engage in a residency program with Changing Worlds. This partnership delivered painting and mosaic instruction to Marquette's seventh-grade students, culminating in a series of permanent murals in the school's hallways. The residency program sought to help students collaborate on an intensive project that would inspire continued arts learning and pride among participating students and the entire school. Students studied master mural works in Chicago, as well as artifacts and artisanal practices from countries including Mexico and Ghana, which informed their own designs for their school. Students also learned to consider their contributions to the murals both as a group and as individuals, resulting in a permanent school display that deepens cultural understandings and advances critical arts learning.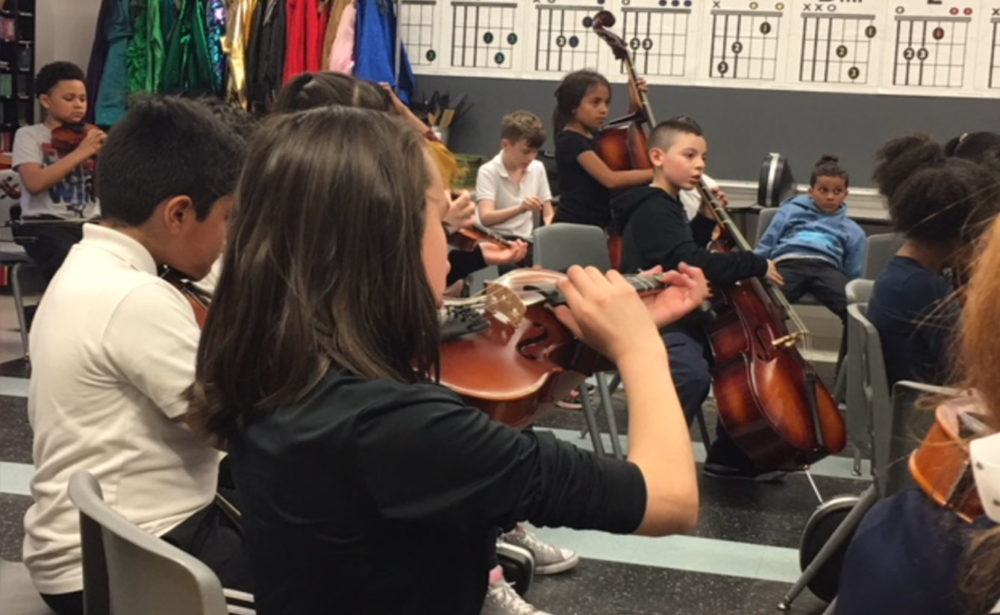 Eliza Chappell Elementary School and Amundsen High School
Eliza Chappell Elementary School and Amundsen High School are in the Ravenswood and Lincoln Square neighborhoods. Most students attending Chappell Elementary go on to attend Amundsen for high school; together, the schools serve a predominantly Latinx student population of over 1,700 students, of whom more than 70% are low-income.
The majority of CPS high school instrumental music programs suffer from underdeveloped coordination with feeder elementary schools. At Amundsen High School, 95% of orchestra students picked up their instruments for the first time in 9th grade or later. To help address this disconnect between the elementary and high school music programs, Chappell Elementary and Amundsen High received Creative Schools Fund grants in 2018 to partner with the Chicago Symphony Orchestra (CSO) and build a pipeline of music training between the feeder elementary school (Chappell) and its neighborhood high school (Amundsen).
The CSO supplemented existing music instruction and provided concert access to both schools. Simultaneously, Amundsen High students mentored beginner string players at Chappell. Music teachers from both schools collaborated on learning projects, including a Spring Fine Arts Festival with interdisciplinary arts participation. This partnership helped the orchestra students reach new levels of musical excellence, supported leadership development among students and teachers, established a music development pipeline between the schools, and showcased the successes of the partnership to community audiences.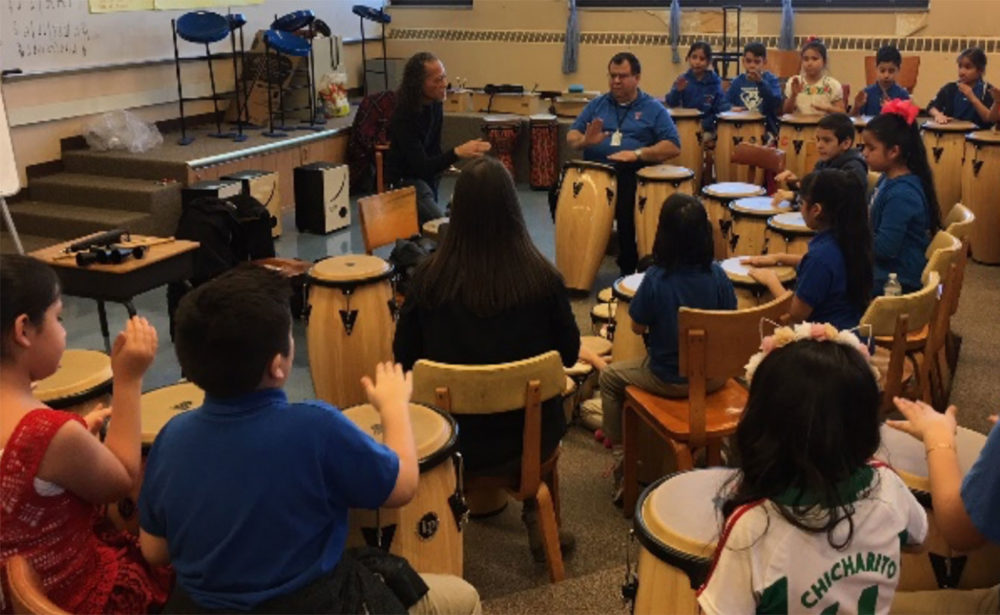 Belmont-Cragin Elementary and Old Town School of Folk Music
Belmont-Cragin Elementary School serves nearly 600 students, of whom 94.4% are Latinx and 92% are low-income. The student population has unique learning needs: 70% of students are English language learners and 18% are diverse learners. Belmont-Cragin is ranked as Excelling in the arts—the highest rating on Ingenuity's five-tier Creative Schools Certification scale.
In 2018, Belmont-Cragin received a Creative Schools Fund grant to partner with Old Town School of Folk Music. Old Town teaching artist Carlos Cornier, a Latin Drumming expert and instructor, conducted a residency at Belmont-Cragin, leading 180 students in grades third through eighth in a project called Thrive.
Thrive takes both a musical and social-emotional development approach to instruction, using the process of Latin Drumming to empower students to step outside their comfort zones and face their insecurities towards performing onstage. Students learned the history and geography of Latin Drumming and, in doing so, explored Latin American culture and their own heritage. In addition to weekly instruction in group drumming, the students took a field trip to Old Town School of Folk Music to see a performance of world music featuring percussion. Students wrote reflections on their experiences in and outside of class and performed a concert for the Belmont-Cragin community to showcase their new skills.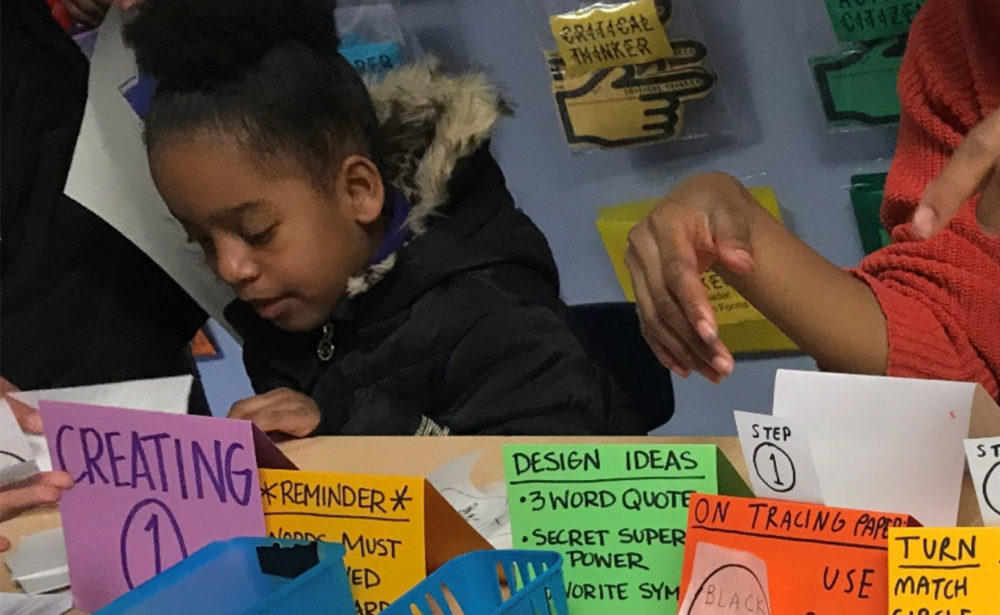 Polaris Charter Academy Elementary School and ArtReach
Polaris Charter Academy Elementary School in West Humboldt Park serves 400 students, almost all of whom come from underserved communities of color: 99% of Polaris students are black and brown, 87% are economically disadvantaged, and 17% are diverse learners. Polaris is a Category 1 and Excelling school, CPS and Ingenuity's highest certification ratings respectively.
Polaris has an explicit focus on active citizenship and critical thinking, and teachers and administrators work to instill personal and civic responsibility in students. Polaris received a $10,000 Creative Schools Fund grant to support a residency with ArtReach, a visual arts nonprofit that provides mobile and studio access to underserved communities in Chicago. ArtReach customized their printmaking curriculum to engage Polaris students in the use of poster art in social justice movements. Over a five-week intensive unit, ArtReach provided instruction to Polaris' fifth to eighth-graders in printmaking—including block, stencil, and linocut—inspired by the historical use of image and text in poster art. To ensure critical arts learning, students also investigated elements of design, visual literacy, propaganda, and art in public space.
After interrogating the intersections of contemporary political, cultural, and artistic movements, students shared their new perspectives through a community poster campaign installed throughout the school and surrounding community. To model how the arts can spur community-wide action, the ArtReach residency culminated in a community event to encourage discussion and reflection on the topics explored throughout the poster campaign. Student docents presented and discussed student-made work with parents and the community.
In addition to the $10,000 Creative Schools Fund grant, Polaris received a $5,000 Leadership Award to purchase supplies and equipment needed for an ongoing printmaking program. The award also funded Polaris teachers' professional development with local print facilities, ensuring teachers achieve proficiency in the medium and, ultimately, sustain printmaking in the school beyond the ArtReach partnership.
2016-17 Student Impact Stories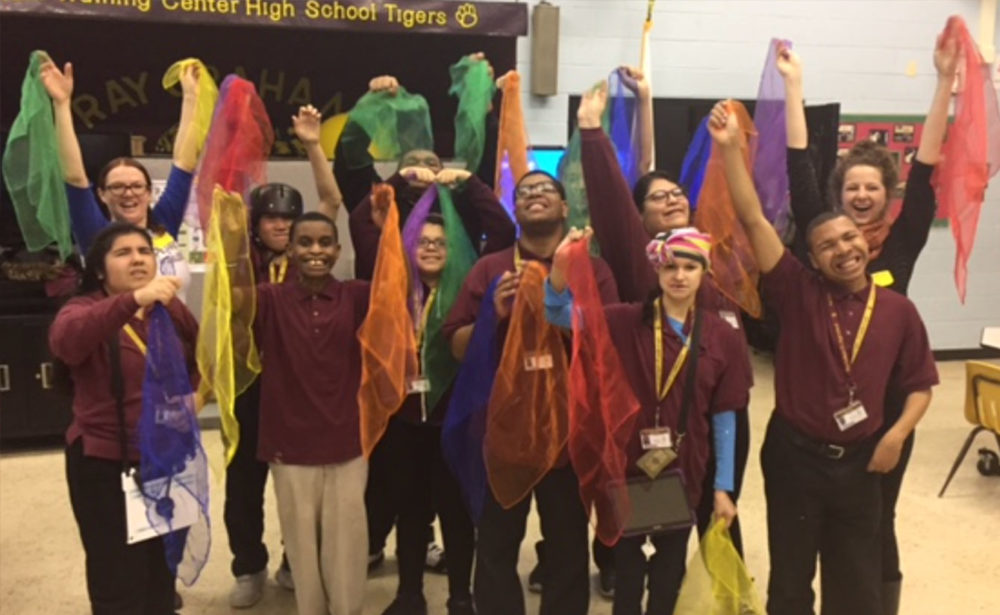 Ray Graham Training Center High School and All-Stars Theatre Company
Graham High School is located in the South Loop community and serves 126 intellectually-disabled students, of whom 97% are black and brown and 94% come from low-income households. Graham provides individualized instruction to meet each student's unique educational, physical and emotional needs. Last year, Graham received a Creative Schools Fund grant to partner with All-Stars Theatre Company. The partnership was particularly meaningful as the school's theater arts teaching position had been eliminated due to budget cuts.
Opportunities to participate in theatre classes is essential for many Graham students, as several struggle with speech, interactions with others, individual and group performances, and effectively advocating for themselves. The All-Stars residency included ensemble-building theatre games to promote confidence and scene-study exercises to deepen understandings of Shakespeare and performance. Workshops addressed general theatrical concepts such as voice, movement and imagination.
By the end of the residency, students had created and staged a performance for their peers, families and the Graham community, inspiring other students to discover their own confidence. In addition to this performance, artists from the All-Stars performed scenes from Macbeth, thoroughly enthralling students. Graham's administrators reported: "The students genuinely enjoyed working with the All-Stars each week. Many of our students who are typically shy, literally began coming to life with each practice session. Students started speaking more loudly and clearly, and increasing their interactions with each other. That can often be a struggle for our students and was absolutely awesome to witness!"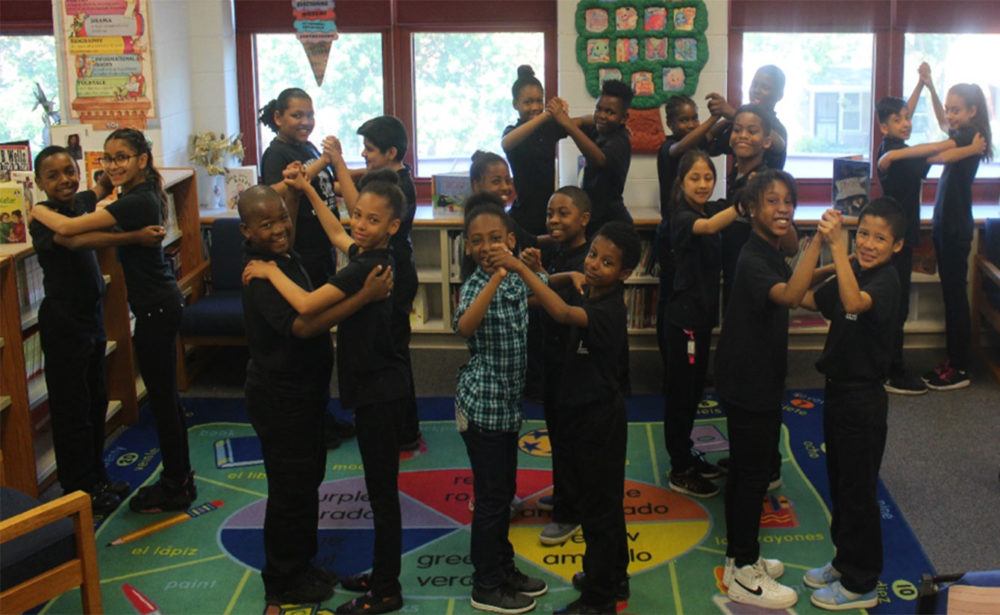 William K. New Sullivan Elementary School and Dancing with Class
Sullivan Elementary School is located in the South Chicago neighborhood and serves 513 students. Of Sullivan Elementary students, 98% are black and brown, 99% are low-income, 22% are diverse learners, and 13% are English Language Learners.
Last year, Sullivan received a Creative Schools Fund grant to partner with Dancing with Class to introduce fourth through sixth grade students to ballroom dancing and engage the community in activities in and outside of school. Dancing with Class provided a 10-week dance residency, inspiring students to practice their new skills with confidence and grace while instilling pride in their community.
Ultimately, the Dancing with Class residency proved that dance is truly transformative for the soul: the entire school became involved in the program, assisting with the grant application, re-working the school schedule to accommodate practice space, and cheering on dancers in competition. Participating students even began to teach their siblings the dance moves, and they wanted to practice at every available moment, including during their Art, Library and Recess periods. Unsurprisingly, these talented, dedicated students went on to win a city-wide ballroom dance competition—a testament to what can be achieved once students' potential is unlocked and cultivated.
Contact Us
Interested in learning more about what you read above or Ingenuity? Don't hesitate to reach out!
Contact Us