ArtsEd Response Collective
Creating a sustainable path forward for arts education
With the COVID-19 crisis impacting Chicago's arts education sector, Ingenuity is spearheading a collective response to ensure we do not lose any of the hard-fought arts education gains made in CPS over the past nine years.
Ingenuity will be virtually convening sector-wide stakeholders through our new ArtsEd Response Collective (ARC) to ensure we proactively address the changing landscape and lay a sustainable path forward for arts education in the future.
The purpose of ARC is to:
Understand the emerging challenges for students, educators, schools, teaching artists, arts nonprofits, cultural institutions and funders in the Chicago arts education sector
Provide technical support through a community of practice
Create a sector-wide Common Agenda to guide the sector beyond the immediate crisis
Establish a 12-month Action Plan for the arts education sector aimed at mitigating the impact of the current crisis on CPS students, school communities, teaching artists, and arts organizations.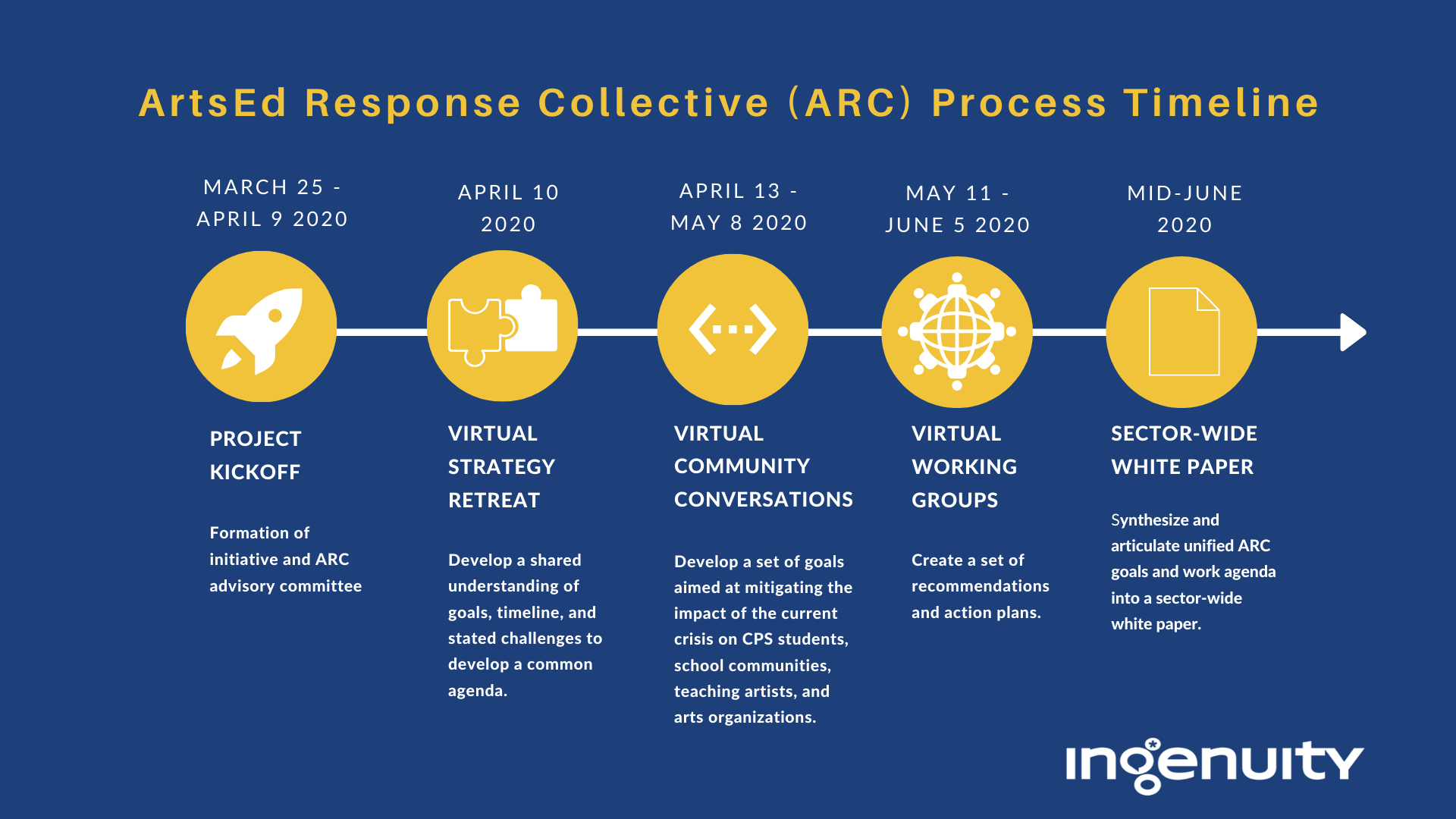 ARC Virtual Community Conversations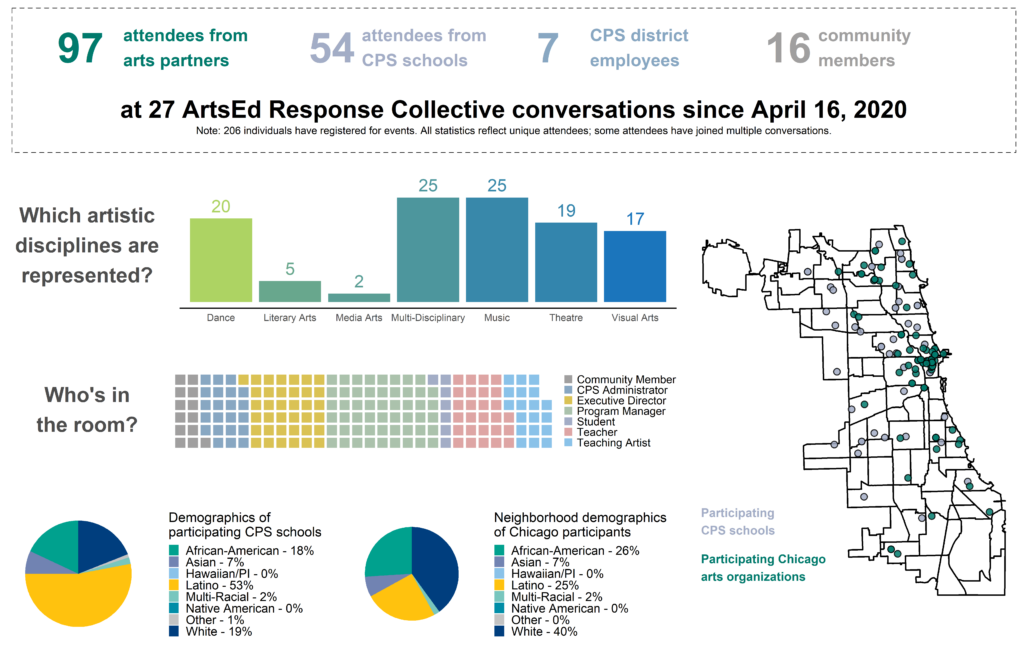 Who's in the room?
During the ARC Virtual Community Conversations, we heard from 100+ members of Chicago's arts education sector, including arts partners, teaching artists, CPS teachers, and community members. Arts leaders and advocates from various Chicago neighborhoods, artistic disciplines, and backgrounds offered their insights and strategies to advance our efforts to support and address our changing arts ed landscape in the wake of COVID-19.  Stay tuned for the themes and strategies that emerged from these insightful gatherings.
Themes
Participants from across Chicago's arts and education sectors shared their experiences and feedback over the course of 10 virtual convenings to help inform ArtsEd Response Collective strategies. We've catalogued their feedback by theme. View our full summary of ARC feedback and themes here.
ARC ADVISORY PANEL
Thank you to the members of the ARC Advisory Panel, who have come together from across the arts and education sectors to advance initiatives that mitigate the impacts of COVID-19 on our community.
JC Aevaliotis

Program Officer, Polk Bros. Foundation

Sarah Alvarez

Director of School Programs, The Art Institute of Chicago

Quenna Barrett

Associate Director of Education, Goodman Theatre

Mary Beck

Principal, Nicholas Senn High School

Jennifer Benoit-Bryan

Vice-President & Co-Director of Research, Slover Linett Audience Research

Sherly Chavarria

Chief of Teaching and Learning, Chicago Public Schools

Julia deBettencourt

Director, CPS Department of Arts Education

Eric Delli Bovi

President & CEO, Urban Gateways

Amina Dickerson

President, Dickerson Global Advisors

William Estrada

Independent Teaching Artist

Ayriole Frost

Executive Director, Shift Englewood: Youth Orchestra

Sabrina Greig

Arts Program Officer, Lloyd A. Fry Foundation

Akilah Halley

Executive Director, Marwen

Erin Harkey

Deputy Commissioner, Chicago Department of Cultural Affairs and Special Events (DCASE)

Paul Kassel

Dean, School of Theatre and Dance, Northern Illinois University

Susan Lee

Director of Dance, Northwestern University

Kate Lorenz

Executive Director, Hyde Park Art Center

Shemeka Nash

Fine Arts Department Chair, Band Director, Morgan Park High School

Jose Ochoa

Executive & Artistic Director, The Chicago High School for the Arts

Claire Rice

Executive Director, Arts Alliance Illinois

Sydney Sidwell

Senior Program Officer, Lloyd A. Fry Foundation

Lauren Sivak

Executive Director, Second Story

Gina Spears

Dance Teacher, Portage Park Elementary School

Jeff Waraksa

Arts Education Manager, CPS Department of Arts Education

Jon Weber

Director of School and Family Programs, Chicago Symphony Orchestra