2020-21 Applications coming soon!

In the next few weeks, we will release the latest Creative Schools Fund application. The 2020-21 grant cycle includes exciting new updates designed to support and adapt to the needs of students, teachers, and arts partners as they navigate this new school year. Be sure to follow us on Facebook and Twitter and check back here for the latest updates and announcements!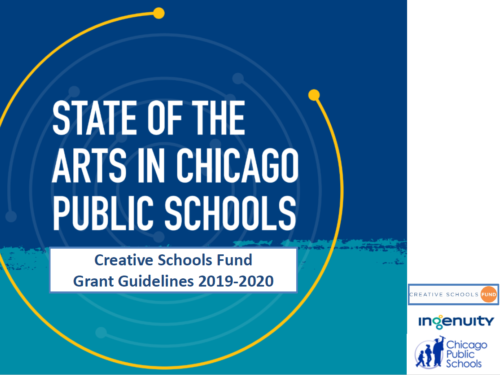 2019-20 Grant Guidelines
Understand the latest CSF goals and priorities, check grant eligibility requirements, and note key dates.
Past Grantees
Each year hundreds of schools design arts learning programs to fill gaps in arts instruction for their students, expand curriculum and teacher skills, and better sustain access to the arts for every student in every grade. Simply by participating in the application process, schools report improved teacher capacity for strategic planning in the arts and increased partnerships. We are honored to partner with the extraordinary arts teachers of CPS who design and implement Creative Schools Fund grants each year!
Contact Us
Interested in learning more about what you read above or Ingenuity? Don't hesitate to reach out!
Contact Us